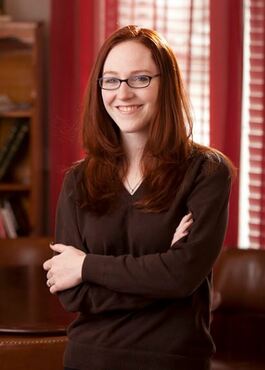 Located in Manchester, New Hampshire and serving all of New Hampshire and Massachusetts, American Wealth Protection has been an LWP member since the fall of 2017.  Owner and Founder Jenny Rivard began her legal career at just 14 years old when she worked typing documents and answering phones for the estate planning law firm where her mother worked.  After several years at that firm, she knew that she wanted to become an estate planning and elder law attorney.  She avidly pursued her career, obtaining her undergraduate degree in just 3 years, and in 2009, became the second youngest person to have passed the bar in the state of New Hampshire.  After a brief stint at another firm, she created her own a year later, and went on to innovate by being the only firm in her market to include financial planning among her firm's offerings, providing seamless service to her clients.  Today, Jenny and her husband, Patrick, who is also an attorney and plays a key business development role at AWP, are focused not only on growing their business but also parenting their four beautiful children.
LWP sat down with Jenny Rivard to talk about her firm and the changes it's experienced since becoming a member. 
What brought you to LWP? 
About six years ago, I had a client who came to see me because she needed a plan.  She had Alzheimers and could no longer do math, but prior to this, she had been a physicist!  We prepared all the standard documents, but she needed more.  "Who will help with the day-to-day things, like bathing?  What checkbook should my son use when he needs to take over the finances?" were among her many concerns.  I realized that despite having a lot of tools, in order to provide a real plan, I needed more.  I decided to get involved with Medicaid planning, and when I searched online for training, I found LWP. 
I knew I needed the Medicaid software, so I attended Practice With Purpose, and I joined LWP right then.  I've been a platinum member for two years. 
How tightly do you follow LWP's systems and processes?
My firm definitely speaks the LWP language, but we're a unique firm, so despite my strong inclination to want to follow the systems as strictly as possible and not change the workflows, I realized that my firm simply didn't fit perfectly in the category.  We wanted one system that could handle all of the services we offer, including financial planning and insurance, while keeping all the notes for every file together.  There are confidentiality issues that get quite complex with that, so, we've had to adapt LWP's systems to fit. 
What is the greatest success you've had since you fully engaged with LWP?
We're on the brink of doubling our revenue within about a year to 18 months, but even so, I'd say that the biggest success was being able to see the 10,000-foot view so we could see what was to come next.  Before LWP, I'd done pretty well on my own, but I was working in the business.  Since joining LWP, we've gone from being a one-person to a five-person firm.  That was due to the coaching—the ability to get to the next steps that I couldn't have achieved on my own.  Hands down, for me, the most valuable part of LWP has been the coaching with Mandy and Candace.  They help us stay focused and spent a good deal of time helping us tweak the software to fit our model.
To what, specifically, do you attribute your revenue growth?
It's the coaching…more so than anything else.  I was too "in it" to see the 10,000-foot view of what was to come next.  My LWP coaches got me out of that.  I don't think I would've gotten to this place without that coaching.
What do you believe sets American Wealth Protection apart from your competition?
Our unique model sets us apart.  It's the fact that we have the financial advisors on staff, and we do both legal and financial seminars.  While we do have clients that have their own advisors, often times, they're in separate buildings and not always on the same page in regard to the client's needs.  Our model offers a more integrated approach.  Also, our approach to financial planning is to plan for the worst-case scenario.  We assume the highest inflation and taxes, and from that, we figure out how long our clients' income will last.  Once that scenario has been created, we see what's left to protect, which takes us into estate planning.  I think our model is pretty unique right now, but people will probably migrate to it over time.  A lot of attorneys think they need to bring someone in house, but in my case, I had both the legal and the financial planning licenses. 
What is your marketing model?
I have over 2,000 clients I've gathered in the last 9 years, so we get a lot of client referrals.  Other than that, there are a few referrals from other places, and of course, we do the workshops.  We would like to start more traditional advertising, but we're not doing it yet.  For now, we're continuing to work on our infrastructure.
Do you attend LWP's TAPER events, and if so, what wowed you there?
We attend one TAPER per year, and the IMQ (In Marriage QDRO®) presentation was amazing.  But, our firm's TAPER "aha" moment is really just that it keeps us centered and moving in the same direction, and we really need that by October of each year.
What is your favorite LWP tool?  It's a tie between the dashboard and the Medicaid software.  The dashboard is an easy way to see what happened all month—what we should have earned vs. what we actually collected.
What kinds of changes, if any, are you currently seeing in your market?
In our market, we're seeing a trend among widows whose husbands had handled the finances.  They've suddenly found themselves in a situation in which they don't know who to call.  There's an unmet need there. 
FUN FACTS:
Share something about yourself that most people don't know about you.
I'm a "little old lady at heart."  I really enjoy crossword puzzles and jigsaw puzzles.  I grew up on a farm, so now I can my own vegetables, and I love all kinds of outdoor activities, like fishing.
What is your favorite book, and how did it impact your life?
I love to read.  The book that taught me how to adapt my personality to that of the person with whom I'm speaking so we're connected was Jeffrey Fox's Rainmaker.  It has nothing to with law at all.  It's super small, easy read, and the reason I could bring in business.  I found it when I was starting my own firm and googling every sales book I could to try to figure things out.