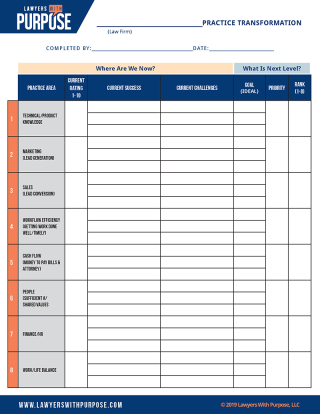 To get where you want to go, you must first identify precisely where you are now. The LWP Practice Transformation Tool provides a succinct yet accurate and revelatory way to do just that. We suggest you download it now and complete it as soon as you can.
First, rate each of the eight specified areas from one to 10. The area in which your firm is most successful should receive a rating of one, whereas the area that needs the most improvement should receive a rating of 10. Next, write down examples of specific successes and challenges within each of the eight areas.
At this point, you have an idea of where your firm is today. Now it's time to identify where you want your firm to be in the future. Specify your ideal goal for each area and its importance to the success of your firm.
So, which of the eight areas have you ranked 1, 2, and 3? These are the three areas where you want to focus first.
You might want to have your team participate in this exercise as well. Perhaps their perspective differs somewhat from yours, which should warrant additional discussion that could provide you with valuable insight. In the end, by completing this exercise you will have a good idea of the areas upon which you and your team need to improve the most. Focusing on those first will help you get to the next level.